Exploring Google Apps for Business: Google Calendar
by Robert McNicholas on August, 07 2017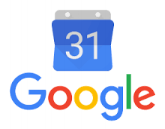 In our previous post, we gave you an overview of Google Apps for Business, a flexible, online productivity suite that combines the power of programs like Microsoft Word with the instant collaboration capabilities of the internet. In this post, we'll be discussing one popular aspect of Google Apps for Business: Google Calendar.
What is Google Calendar? Well, imagine that your desktop calendar or smartphone scheduling app suddenly became connected to the internet, sending out reminders to your email and messages to your colleagues. It also self-published a copy of your itinerary on your website, enabling customers to select appointment times. And, it worked across time zones to communicate with coworkers and suppliers in other countries. To top it all off, it also automatically created a backup of itself whenever there was a change.
That, in a nutshell, is the Google Calendar app.
Google Calendar is available for free for individual use. For companies, it's available in conjunction with a paid subscription to Google Apps for Business. Your paid subscription also brings you additional benefits in terms of scheduling options and increased online storage. Like everything included in the Google toolbox, it's easy to scale Google Calendar to your current needs, adding and deleting users as your organization requires. (Currently, Google offers a free 30-day trial of Google Apps for Business.)
Helpful Features of Google Calendar
As part of the Google Apps constellation, Calendar works well with Google Drive (where you store documents and other files), Gmail (Google's easy-to-use email service), and Google Docs and Sheets (word processing and spreadsheets, respectively). It also functions with other popular calendar programs. Additionally, you can use Google Calendar offline and any changes you make will be added to your account the next time you log in.
How does Google Calendar help your business? Organizing people and events becomes easier when you use a single, integrated solution. Here's how it works:
You create an event. You can then automatically send invitations to other people and track their responses through your email.
You create a reminder. Google will remind you when your appointment will start. You can attach files or documents directly to your event reminder so that they are available and ready when you are.
You post your schedule. Use the smart scheduling feature to determine the best time for you and your colleagues to talk, or embed your calendar into your website to allow customers to set up appointments.
Add other people to your calendar. If you have an administrative assistant who handles your appointments, you can add them as a user to your calendar and give them the ability to set and manage interviews, calls, meetings, and the like.
Keep in touch out of the office. The time zone conversion service makes it easier to meet with people in other areas. It also instantly adjusts when you travel so that you don't inadvertently wind up with meetings at three in the morning. There's also a handy feature that allows you to add in widgets that monitor the availability of the people that you work with.
How Google Calendar Can Help Your Business
Google Calendar can be a definite boon to your business, especially if you find yourself frequently collaborating with people in other regions. If you choose to use it as an appointment setting device, you minimize the risk of missing that important call or that new customer. As a collaboration tool, it drastically reduces the time and frustration of trying to contact busy suppliers and telecommuting team members.
By virtue of Google Calendar's intuitive flexibility, many routine and time-consuming tasks associated with scheduling are simply eliminated. This means more time spent working on things that matter -- building profits, enhancing client relations, and optimizing your business.
This was the second post in our new series, Exploring Google Apps. Be sure to check out the other posts to learn even more about Google's productivity suite and how it can benefit your business.