Five Reasons to Fail At Social Media
by Robert McNicholas on December, 05 2018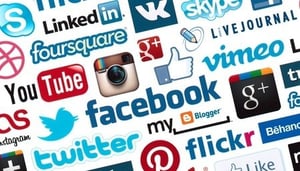 Want to succeed at your business's social media efforts? Of course you do. And you're not alone in trying. According to a report on Mashable, 81 percent of small and medium businesses are using social media.
Naturally, you want your social media to reign supreme. Do you also want to know how to fail? You should, inasmuch as you'll be able to avoid these rookie mistakes.
How Social Media is Like Conversation
What is your goal on social media? Ultimately, it's to sell stuff, right?
You're in business, and you need cash, so you generate it by selling a service or a product.
But here's the thing: your social media presence shouldn't be focused purely on sales. Here's why.
Social media is a lot like having a conversation. And nobody wants to be 'sold to' all day every day. Sometimes, people just want to chat. At other times, they want a listening ear.
Keep this in mind for your forays into social media.Another conversational annoyance can be translated into social life: those irritating people who never respond to other people's remarks or questions.
And you know what? If you're not careful, that can be the image you create on your social media accounts.
So, let's countdown to total failure.
How to Fail at Social Media
If you're new to social media, here are five ways you can totally wreck your customer's experience — and your own plans:
Update Only When You Feel Like It - Or Never. Most of the business world runs on a set schedule. So should your social media platform. In addition to posting information about time-sensitive events like sales and new items or services, add new information regularly. This not only looks professional, it also shows you're serious about connecting with your followers.
Don't Acknowledge Anyone - Don't you hate those people who keep talking and talking and talking — no matter what you say? When you don't respond to people who take the time to comment on your page, that's who you become. It's not a good thing. Be polite and professional, and respond to comments as much as you can.
Be ALL ABOUT THE SALES!!! - It's okay to sell on social media — but not full time. For the most part, social media is about outreach. You're either connecting with customers or networking with other businesspeople. Besides, potential buyers can be directed from your social page to your website, where you can really perfect your sales pitch.
Ignore This Crazy Planning Thing - To fail to plan is to plan to fail. You won't get around to building a solid social presence unless you schedule time to do it. And you'll need a roadmap with clearly defined goals; otherwise, you'll be wandering aimlessly in the social ether.
Use Other People's Pages to Proclaim Your Greatness - Scroll down many a comments section, and you'll see people saying things like 'Product ME is so great! Buy it here!' This is called spamming, and it's not acceptable. It's tacky, rude, and a lot of things you don't want your business to be. Other peoples' comments sections are where you — wait for it — comment about them. It's not about you.
A good social media campaign needs guidance. From time to time, we write about social media tips and techniques in the TechSperts Services blog to help you get started and stay informed. It's also a good idea to consult with a social media manager or another professional. Whichever path you choose, staying social-media smart is a great way to build a rapport with your customers online.