Four Times When Saving Money Is a Bad Idea
by Robert McNicholas on June, 27 2017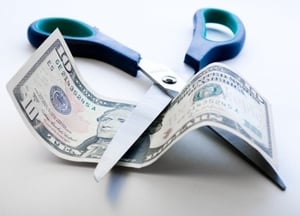 Is your business on a budget? These days, every business is. While it's a good idea for small businesses to save money, sometimes going the cheap route is not.
What's your favorite thing to spend money on? Battling IT problems? Keeping up to date with all the tech and social media trendsetters? How about the really fun stuff, like your accountant or your cleaning service?What, nobody agrees with me?
Admittedly, money is much more fun to spend on splashy things, like vacations and our grown-up toys. Unfortunately, we usually have to allocate our funds elsewhere. This is especially true for small businesses, be they established or startups. So, it's perfectly natural to want to conserve funds.
Saving money can be carried too far. Ever try to replace your favorite premium-brand coffee with the cheapest stuff you can find? After your first cup of cut-rate joe, you know that there's a lot more to life than saving every possible penny. The business equivalent of this is pairing down costs to the bone. Rent, utilities, stock – these are pretty much non-negotiable. The problem lies when savings are carried too far and costs are cut in the wrong places. What are some of the favorite targets of penny-wise, dollar-foolish cost cutters?
Four Ways NOT to Cut Your Budget
While we're all for saving money, sometimes it's better to spend now and save in terms down the road. Conversely, the good old saying that "you need to spend money to make money" is also true; spending some in marketing-type activities can return much more than your original investment. So, here are four things not to do when you're trying to save some funds:
Ignore the Internet. If you follow this blog, you'll know that this is something we keep repeating. And for good reason: today's consumer relies heavily on the Internet as a source of information. If you don't have some kind of online presence, you're basically telling a whole segment of your customers "I don't really exist." And if you have a website that looks like it was designed at the same time Tim Berners-Lee was inventing the Web (and that's 25+ years ago, by the way), you're telling them "I don't care enough to stay current."
Automatically hire the cheapest. A company or person can do good work on a budget-friendly rate. But be wary of low-ball offers; quite honestly, you're probably going to get exactly what you pay for – not a lot, in other words. Shop around, know a ballpark price for managed IT services, for example, and investigate possible providers thoroughly.
Embrace unsocial media. If you set up a social media account, be sure to regularly use it. Nothing is quite so unsociable as a long list of unacknowledged comments. Yes, it may cost you some time or money to do so. But given the demonstrable impact that social media is having on customer satisfaction and lead generation, it's a sound investment. If you've got it, make use of it.
Always opt for freebies. Free is great – unless it brings your business's image or functionality down. So skip freebies that will leave traces of their brand (i.e., their logo on your website). Also, you can apply this rule to free or very-discounted second-hand equipment: there's a reason that shiny printer-scanner-copier is sitting in the junk heap. Unless you know and trust the source, pass on the free IT.
Spend wisely. Smoothly running computers and office equipment are as non-negotiable as rent and utilities. Reliable IT assistance, like what TechSperts Services offers, is a must-have if you don't have an onsite computer guru. And marketing, well, consider that an investment in your future, not a simple expense.